Nuevo Renacer, Puerto Plata Dominican Republic – July 19, 2013
The Home With Dignity project completes the Gonzalez – Gil residence in the Nuevo Renacer barrio of Puerto Plata.  This home represents the 32nd home funded by Project Las Americas in the Dominican Republic.  PLA has worked with Pastor Sandra Tineo and the Jardin de Luz Foundation since 2002 in education, health, youth and community development.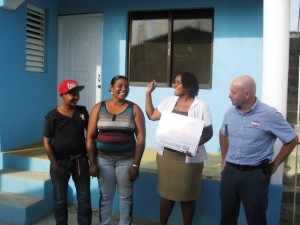 The housing project is designed after the "barn raising" concept, common in the early American tradition.  The principle objective is to bring the community together for a common need and foster community development.  Secondly, an impoverished family receives a decent home to provide stability and security for the family.  PLA provides the construction materials while community volunteers provide the labor.  This project has been a key element in the transformation of the barrio, from a cluster of people living in close proximity to a true community which exhibits concern and empathy towards one another.