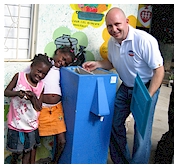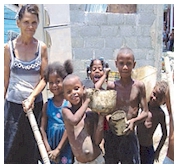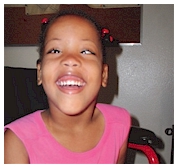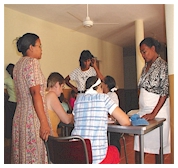 Childrens Safe Water Project
Our largest project is oriented in the area of health with the "Childrens Safe Water Project". We are part of an alliance which has brought the concentrated efforts and resources of the Rotary Foundation, Rotary clubs, the Peace Corps and others to provide education and household water treatment to the poor.
Read More ...

Home Rehabilitation Project
Aguas Negras is a barrio situated in the city of Puerto Plata, Dominican Republic. There are roughly 1,000 families, of which the vast majority survive in precarious conditions. Virtually everyone is in need one way or another.
Read More ...

A Home With Dignity
These children and their parents lived in this shack (left). For only $1,500 they were provided a new concrete block home on the same site. Others have received new homes or major renovations whereby making their homes habitable for only a few hundred dollars. Everybody pitches in to do the job!


Youth athletic teams offer barrio children with healthy activities and life skills. By donating uniforms and equipment hundreds of children participate in baseball, soccer, basketball and volleyball.
In just 3 months a group of adults can be taught basic reading skills. By utilizing local teachers we can fund a complete adult class for just $200. Self esteem given a 60 year old woman who says "Now I can sign my own name." School For The Deaf
Provide funding to the Puerto Plata School for the Deaf Vocation Center. Besides basic education, students receive vocational training in computers, woodworking, sewing and cosmetology.

Disabled Orphans
The most vulnerable, abandoned children, now have a home and the love they deserve. There needs are great in attention and care. Casa Nazaret, located in Puerto Plata, pro-vides a home to 12 children. We seek long term commitments from organizations and individuals to provide for them. It costs annually about $3,000 per child to provide housing, food, clothing, medicine, attention and therapy.

Medical Assistance
Organizing medical clinics in remote villages utilizing volunteer doctors, nurses and pharmaceutical donations provides medical access to hundreds in just one day.
We also assist AIDS advocacy groups such as CEPROSH, working in the Dominican Republic and Haiti. Education Assistance
Donating basic school supplies allows poor children to attend school. The lack of $5.00 can keep a child from attending school. Deserving high school students are provided with a transportation subsistence of $100 per year. Without it, they could not attend high school located in another community. Project Las Americas provided a community center in Majigual. We now provide College assistance to aspiring community youths who make a commitment to become teachers. Subsistence cost is $1,000 per student annually.